Science and Mathematics Education, MS — Online
Format
This 100 percent online degree program is delivered through Canvas, OSU's online learning platform. The program follows a suggested two-year, accelerated completion sequence in which students take two courses per semester. This can be modified as needed.
Curriculum
The dynamic curriculum requirements allow students to take science and mathematics specific courses as well as integrated science, technology, engineering and mathematics (STEM) courses. Coursework preview:
Problem-Centered Learning in Math

Problem-Based Learning in Science Education

Elementary Statistical Methods

Environmental Education

Teaching Algebra and Mathematical Tasks
Technology for the K-12 STEM Educator

Educational Leadership and Advocacy

Pedagogical Research

Research Design and Methodology

Social Justice by the Numbers

Introduction to K-12 Engineering Education

Admissions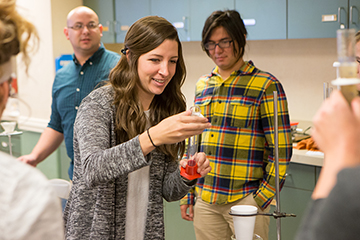 Applications are accepted on a rolling basis. Students are encouraged to submit application materials at least six weeks prior to the start of the semester.
To apply to the Teaching, Learning and Leadership - option in Mathematics and Science Education, M.S. program, complete the following:
Transcripts from all previously attended institutions, including an undergraduate degree or minor in mathematics or science with a 3.0 minimum undergraduate GPA or satisfactory GRE score (quantitative)

Current resume/vita

Personal goal statement (500 words)
Cost
2019-2020 Estimated Cost
Resident
Non-Resident
Total cost per credit hour
$495
$625
Total cost per 3-credit hour course
$1,485
$1,873

Estimated total program cost

(36 credit hours)

$17,810
$22,473
* This is only an estimate of costs, based on currently approved
2019–2020 rates
. Cost estimates do not include textbooks or exam and course fees. Costs will vary if coursework is not fully completed online.
Active-duty military qualify for resident tuition rate
. Tuition and fees are subject to change at any time without prior notice.
Full disclaimer
The federal TEACH Grant Program may provide up to $4,000 a year to aid students seeking degrees in high-needs fields and who meet specific eligibility requirements. Students must sign an Agreement to Serve and acknowledge that if the terms are not fulfilled, the grant will be converted to a loan that must be repaid.